NATIONAL NEWS
1.PM Modi inaugurates Vishakhapatnam strategic petroleum reserves and ONGC's bus project in Andhra Pradesh:-
Prime Minister Narendra Modi dedicated the Visakhapatnam strategic petroleum reserves to the nation in Guntur in Andhra Pradesh. The capacity of this center is 13 lakh 30 thousand metric tonnes. The Prime Minister also inaugurated the Vastist and S-1 development project of Oil and Natural Gas Corporation Limited located in the Krishna-Godavari river valley. Shri Modi laid the foundation stone of the new terminal of Bharat Petroleum Corporation Limited in Krishnapatnam. In a public meeting in Guntur, Shri Modi said that this project is important with the view of meeting Andhra Pradesh as well as the energy requirements of the entire country. He said that these projects will create a lot of employment opportunities.
The Prime Minister said that the Government is paying special attention to development of all coastal areas of the country as petroleum centers.The Prime Minister said that the work of providing free gas connections to the poor, Dalits and tribals is going on fast. He said that the Central Government has selected Amravati as the Heritage City under the Heart Scheme.
While criticizing the opposition, the Prime Minister said that the parties who had left the people to live in smoke are now spreading lies. He said that development for the Chief Minister of Andhra Pradesh is no longer a priority and therefore he has also joined the coalition partners of the Prime Minister. Shri Modi said that the Chief Minister of the state had promised to develop infrastructure, but now he is paying more attention to his development rather than the state.
2.Union Minister Smt. Harsimrat Kaur Badal inaugurated the first Mega Food Park – Kremika Food Park in Himachal Pradesh:-
Union Minister for Food Processing Industries, Smt. Harsimrat Kaur Badal inaugurated Kremeika Mega Food Park Pvt. Ltd. through video conferencing. This park is located in village Singhan of Una district of Himachal Pradesh. This is the first Mega Food Park operated in the state of Himachal Pradesh. The inauguration took place in the presence of Shri Jairam Thakur, Chief Minister of Himachal Pradesh, Hamirpur Lok Sabha MP Mr. Anurag Singh Thakur.This park will accelerate the development of the food processing area in Himachal Pradesh.  The people of Kangra , Hamirpur and Bilaspur will get benefit from  Kremika Mega Food Park from Una District and nearby districts . This mega food park has been set up in 52.40 acres of land at a cost of Rs 107.34 crore. In the Mega Food Park Central Processing Center (CPC) the facilities being developed by developer include bulk packaging (24 metric tons / hour) , frozen storage (1,000 metric tons) , deep freeze , dry warehouse , QC laboratory, Crop pulling line And other food processing facilities. Entrepreneurs in the park and 3 PPC by Solan , Mandi ,And Kangra has a general administrative building for office and other uses and fields have facilities for primary processing and storage.Speaking on the occasion,  Mrs. Badal said that in Mega Food Park 25-30 food processing units will have an additional investment of about Rs. 250 crore and an annual turnover of 450-500 crore rupees. This park will provide direct and indirect employment to 5,000 persons and will benefit about 25,000 farmers.Mrs Badal said that the modern infrastructure of food processing made in the park will benefit the farmers , producers , processors and consumers of Himachal Pradesh and surrounding areas and will promote the development of the food processing sector in the state of Himachal Pradesh. .
Mrs. Badal also said that the present government is a totally committed to the environment , which is comfortable for investors willing to venture in India and a flexible food economy in India and making food factory of the world , Be transparent and easy. The government has made food processing a major area of ' Make in India ' .Smt. Harsimrat Kaur Badal thanked the Chief Minister and the state government for supporting mega food parks.
Background :
Prime Minister under the visionary guidance of Mr. Nrendramodi , Food Processing Industries Ministry is focusing on promoting the food processing industry that is experiencing rapid growth in the agricultural sector and to double the income of farmers and the government's ' Make in India ' initiative Make your contribution prominently inAnd value-added food processing sector and supply chain a big boost to reducing food waste in each step , the food processing industry with special attention, with the Food Processing Industries Ministry mega food park scheme in the country Is implementing. Mega Food Park creates modern infrastructure facilities for food processing to maintain food chain from the farm to the market through a cluster based approach. General facilities and competent infrastructure are built in the central processing center and facilities for primary processing and storage in the form of Primary Processing Center (PPC) and Collection Center (CC) are made near the farm. Under this scheme ,Government of India provides financial assistance up to Rs 50 crore per mega food park project.
3.Prime Minister will inaugurate Petrotech-2019 on February 11, 2019:- 
Prime Minister Shri Narendra Modi will inaugurate Petrotech-2019 at India Expo Center, Greater Noida, Uttar Pradesh on February 11, 2019.Shri Modi will also address the opening session of the event.Petrotech-2019 is considered as India's leading hydrocarbon convention. Petrotech-2011,   13th International Oil and Gas Conference and Exhibition is being organized under the aegis of the Ministry of Petroleum and Natural Gas, Government of India .The three-day wide program organized from 10th to 12th February 2019  will show the favorable development of recent markets and investors in India's oil and gas sector. Petrotech – In 2019, more than 95 Energy Ministers of the partner countries and 7000 representatives from around 70 countries are likely to be involved.Along with the conference ,  the India Expo Mart , Greater spread over 20,000 square meters in Noida will be held an exhibition too. The Petrotech-2011 exhibition will include more than 13 country pavilions and about 750 exhibitors from more than 40 countries, along with special areas on Make in India and Renewable energy theme .The Prime Minister inaugurated the 12th edition of Petrotech-2016 on December 5, 2016.
The Prime Minister said, "For India's energy future, there are four columns in my vision:Energy Access , Energy Efficiency , Energy Stability and Energy Security "The Prime Minister also invited Global Hydrocarbon companies to come to Make in India and assured them that our objective is to create red carpet instead of red tape.
4.Prime Minister Narendra Modi will unveil a plaque on Akshay Vaid Yojna in Vrindavan, Uttar Pradesh on Monday:-
Modi will unveil a plaque about Akshaya Patra scheme in Vrindavan in Uttar Pradesh on Monday. School children of disadvantaged sections of society have so far been held in connection with the completion of 3 serving Arabic cuisine. On this occasion, the Prime Minister will serve three billionth meal. They will also address a public meeting. Shri Modi will pay floral tribute on the will of Lord Prabhupada, the teacher of ISKCON.
5.PM Modi launches several projects in AP, TN and K'taka:-
Prime Minister Narendra Modi launched several development projects in Andhra Pradesh, Tamil Nadu and Karnataka on a day-long visit to the three states.
At Guntur in Andhra Pradesh, the Prime Minister dedicated to the nation the 1.33 million metric ton capacity Visakhapatnam Strategic Petroleum Reserve facility. He also inaugurated Oil and Natural Gas Corporation Limited's Vashishta and S1 development project located in the Krishna-Godavari Offshore Basin. Foundation stone was also laid for setting up of a new terminal of BPCL at Krishnapatnam.Addressing a gathering in Guntur, Mr Modi said the project is not only important for Andhra Pradesh but for the entire nation to meet its energy needs.  The Prime Minister said these projects will create huge job opportunities.Slamming the Opposition, the Prime Minister said, parties which left the people to live in smoke, are now spreading smoke of lies. He also criticised Chief Minister and TDP supremo Chandrababu Naidu, saying he has made a U-turn on promises of development by not using central funds in an appropriate way. At Tiruppur in Tamil Nadu, Mr Modi commissioned the 10-km stretch of the Chennai Metro rail through video-conferencing. The stretch connects DMS and Washermanpet and also completes the 45-km long Metro rail first phase in the state capital. The Prime Minister laid the foundation stone for a 100-bedded ESIC hospital, besides inaugurating a 470-bedded modern ESIC hospital in Chennai. He also launched the modernisation and expansion works of Chennai and Trichy airport terminals. The Bharat Petroleum and Chennai Petroleum, BCPL's Ennore Coastal Terminal and the new crude oil pipeline from Chennai Port to its refinery at Manali in north Chennai were also commissioned by the Prime Minister.Addressing a BJP rally at Tiruppur, Mr Modi termed creation of two defence corridors, one of which is in Tamil Nadu, as a path-breaking step. He said, the corridor in the state will bring industry and investment opportunities for the youth. The Prime Minister made a scathing attack against Congress, saying the previous Government led by the party was not serious about the modernisation of the Defence Forces. Mr Modi said, his government has been focusing on Defence modernisation and self-reliance. At Hubli in Karnataka, the Prime Minister laid the foundation stone of Indian Institute of Technology – Dharwad and Indian Institute of Information Technology – Dharwad. City Gas Distribution Project at Dharwad was also unveiled. Mr Modi also dedicated to the nation SPR facilities in Mangalore and Padur. The work for doubling of the Chikjajur-Mayakonda railway line was also inaugurated by the Prime Minister.Speaking on the occasion, Mr Modi said, projects worth 5,000 crore rupees have been inaugurated which will give an impetus to the government's vision of development for all.
INTERNATIONAL NEWS
6.World government conference begins in Dubai:-
The World Government Conference is being started in Dubai. The conference will discuss the framework of future governments and organized efforts to address global challenges. More than one hundred and 40 countries are participating in this three-day event. More than two hundred sessions and discussion forums will be organized on seven major topics.
7.Democrat Amy Klobuchar announces to contest for president in 2020 election:-
In the United States, Minnesota Democratic Senator Amy Klobuchar has announced that she will contest for president in the forthcoming Presidential election in 2020.
Ms Klobuchar, a former prosecutor, said she is running for everyone who wanted their work recognized. She won praise for grilling Supreme Court Justice Brett Kavanaugh and attorney general nominee William Barr during recent confirmation hearings.The 58-year-old enters an increasingly crowded field of Democrats competing to challenge President Donald Trump. Elizabeth Warren, Kamala Harris and Tulsi Gabbard are among those who have already announced that they will run. A record total of five women have so far entered the race for the US presidency.
SPORTS NEWS
8.Railways lift Senior Men's National hockey title:-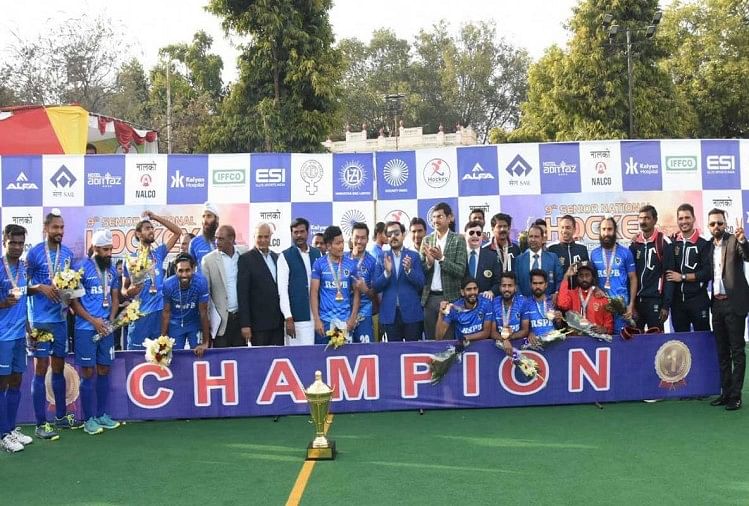 Railway Sports Promotion Board lifted the 9th Senior National Men's Hockey Championship crown at Gwalior. They dished out a scintillating performance to stun defending champions Punjab 3-2 and claim the gold medal. Harsahib Singh scored a brace, while Dilpreet Singh struck late for the winners. Punjab's goals came from Rupinder Pal Singh and Ramadeep Singh.Petroleum Sports Promotion Board beat Punjab and Sind Bank, 4-1 to clinch the Bronze medal.
9.Corentin Moutet clinches Chennai Open ATP Challenger title:-
In Tennis, France's Corentin Moutet has clinched the Chennai Open ATP Challenger tournament title after beating Andrew Harris of Australia 6-3, 6-3 in the singles final.
The second seeded Frenchman yesterday played confidently to dash the hopes of Harris, the conqueror of top-seeded Prajnesh Gunneswaran on Saturday. It was the second Challenger title for Moutet, who received 80 ATP points, while Andrew got 48 ATP points.
10.Table Tennis: India's young paddlers clinch four medals:-
In Table Tennis, India's young paddlers clinching four medals, including a gold, at the Bahrain Junior and Cadet Open tournament in Manama. Besides the gold, India won two silver and a bronze. India fielded three teams in the cadet girls' team event and swept all the three medals on offer.
11.India-A team won the gold, India-B – Silver and India-C – Bronze:-
he India-B team of Yashaswini Ghorpade and Kavya Sree Baskar beat Egypt in the first semifinal, while India-A defeated India-C in the other semifinal.In the final, the India-A team of Suhana Saini and Anargya Manjunath proved too strong for India-B and clinched the Gold.In the Junior girls' competition, the Indian team of Manushree Patil and Swastika Ghosh beat three teams before losing to eventual champions Russia to settle for a Silver.
12.IPL: Shane Warne named brand ambassador of Rajasthan Royals:-
Australia spin legend Shane Warne has been named the brand ambassador of Rajasthan Royals for the upcoming Indian Premier League. Warne, who led Rajasthan Royals to its first and only IPL title in 2008, was the mentor of the side last season. But this year the Australian will be associated with the team in a new role. Warne went on to captain Rajasthan Royals for four seasons until 2011, after which he retired from all forms of cricket. Responding on the development, Warne, one of the finest leg spinner ever produced said he was very happy to be back with the Royals and he was grateful to the team and the fans for their constant support. He said it was important for the Rajasthan Royals to retain the established values but at the same time develop a new and modern identity. Besides, Rajasthan Royals has also decided to change its jersey colour from blue to pink this year.
BUSINESS NEWS
13.India Securities Printing, Mudra Construction Corporation Limited should run a major program of currency making for African countries: Piyush Goyal:-
Finance Minister Piyush Goyal has said that India Securities Printing and Money Manufacturing Corporation Limited should run a major program of currency making for African countries. ,in New Delhi, on the foundation day of the corporation, he said that it will be a matter of pride for the Make In India initiative to reach the world's other notes and coins in other countries.