CURRENT GK
1.Russia and China have emphasized the need to make a peaceful solution to the tensions arising out of nuclear missile activities in North Korea :-
Russia and China expressed a desire to make peaceful settlement of the tensions arising from nuclear and ballistic missile activities in North Korea on Monday.
Russia's Foreign Minister Sergey Lavrov told the government media that no one wants a war on the Korean Peninsula. They expressed the hope that the US is not planning any kind of military action to resolve this crisis.
China's Foreign Ministry spokesman said in a press briefing that all countries should exercise restraint and make an active and constructive effort to overcome the tension on the peninsula.
China also said that UN sanctions should not have any harmful effect on North Korean citizens.
2.Government asked NGOs to open account for transparency within one month fixed banks :-
The Central Home Ministry has instructed all non-governmental organizations, business companies and individuals taking money from foreign countries to open their account in any of the 32 banks set up within a month for high level transparency.
According to the order of the Ministry, instructions have been given to open a foreign contribution account to bring high level transparency and to make the reporting process uncompromising. These banks are connected to the central government's public financial management system.
3.Strong indignation in India about the way in which Indian mother Kulhushan Jadhav meets with his mother and wife in Pakistan :-
In Pakistan, there is tremendous resentment in India about the way Indian mother Kulbhushan Jadhav met his mother and wife on Monday. Jadhav's mother and wife could only see them through the wall of glass and talk to the intercom during the meeting at the Foreign Office office, which was in strong security in Islamabad. Deputy High Commissioner J.P. of Pakistan in Pakistan The lion was allowed to see only a distance from the other wall of the glass at some distance, he could not talk to Jadhav.
External Affairs Minister Shashi Tharoor also expressed disappointment that Jadhav was kept separate from his mother and wife through glass wall.
Subramanian Swamy of Bharatiya Janata Party has described this attitude as rude behavior of Pakistan.
4.Vijay Rupani sworn in as Chief Minister of Gujarat for the second time :-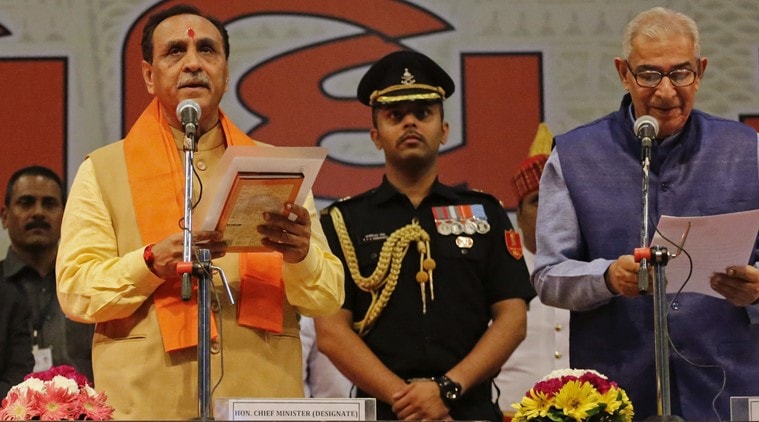 The new government of Bharatiya Janata Party has taken oath in Gujarat. The party has taken power in the state for the sixth time in a row. Mr. Vijay Rupani has been sworn in as the Chief Minister. He has been the Chief Minister of the state for the second consecutive time. Governor Omprakash Kohli administered oath of office and secrecy to him at a function organized at the secretariat grounds of Gandhinagar. Shri Nitin Patel has been made Deputy Chief Minister. According to our correspondent, a total of 19 ministers have sworn in. Among them are nine cabinet ministers and ten minister of state.
On this occasion Prime Minister Narendra Modi and National President of Bharatiya Janata Party Amit Shah, Union Minister Rajnath Singh and Nitin Gadkari and BJP and Chief Ministers of NDA ruled states were also present.
5.Kulbhushan Jadhav family meets Foreign Minister Sushma Swaraj :-
Kulbhushan Jadhav's family met External Affairs Minister Sushma Swaraj in New Delhi. External Secretary S.Jayashankar and Foreign Ministry spokesman Ravi Kumar were also present during this meeting.The meeting of Mr. Jadhav's wife and mother was met today after meeting Kulbhushan Jadhav in Pakistan.
Kulbhushan Jadhav is in Pakistani custody for alleged espionage He has been sentenced to death, on which the International Court has banned him.
India believes that Jadhav, who retired from the Navy, was abducted from Iran.
6.Rajasthan High Court directs state government to tackle striking doctors strictly :-
Rajasthan High Court has directed the state government to deal strictly with striking doctors serving the service. Chief Justice Pradeep Nand Rajong and D.C. The High Court of Chhattisgarh, headed by Somani, has allowed the State Government to detain the striking doctors under Rajasthan Essential Services Protection Act-1970.
The High Court gave this order on a public interest petition. The Chief Justice had urged the Chief Justice to immediately consider the issue in view of the invocation of private hospitals in the Maha bandand of striking doctors.
7.New government will take oath under the leadership of Jayaram Thakur in Himachal Pradesh :-
Prime Minister Narendra Modi ,  BJP President Amit Shah and several BJP-ruled states will be attending the swearing-in ceremony of the new Chief Minister Jairam Thakur in Himachal Pradesh. Nominated Chief Minister Jayaram Thakur gave this information in Shimla on Monday. Shri Thakur said in the interaction with reporters that after the announcement of the Assembly elections, all decisions of the Congress government will be reviewed three months before the implementation of code of conduct. He accused the previous Congress government of failing to implement centrally sponsored schemes in the state.
8.65 people killed in civilian air raids on Hosi rebels in Yemen :-
In Yemen, 65  people have been killed in the recent air strikes by the government forces on the Hosi insurgents  . Security sources told in Aden that the coalition led by Saudi Arabia last night  was killed in Iran's 18 rebel Hais in the air strikes  . 35  other fighters were killed near Tahita  . 12  government soldiers were also killed.
The Saudis-led alliance has been attacking against the Hosi insurgents of Yemen from March  2015  .
9.India ready to beat America in 4G smartphone :-
That day is not far away when India will outnumber America in terms of 4G smartphones. Today, about 95 percent of smartphones sold in the country are 4G, 99 percent of the data card or dongle market. Companies also acknowledge that 4G has changed the trend of this market and changed its impact in the new year.  
According to a report by the Research Institute CMR, the 4G technology handsets accounted for 96% of the total sold smartphones in the third quarter of this year. While the 4G smartphone sales growth was up 37%, 3G smartphones sales decreased by 27%.
10.Icc In the Twenty20 cricket team ranking, India ranks second in the rankings of batsmen, Virat Kohli at number three :-
India has moved to second spot in ICC Twenty20 cricket rankings. With a clean sweep of three-zero in the recently concluded series with Sri Lanka, the Indian team has retained the second place behind England ,  New Zealand and West Indies.
In batting, Indian captain Virat Kohli has come in third place due to not playing in the latest series with Sri Lanka.
Jaspreet Bumrah is third in the list of bowlers. Indian team has got 121 rating points. Pakistan is in first place with 124 rating points.