NATIONAL NEWS
1.Constitutional Amendment Bill 2019 passed regarding giving ten percent reservation to economically weaker sections of general category in Lok Sabha:-
The Lok Sabha passed 124th Constitution Amendment Bill 2019 to give ten percent reservation to economically weaker sections of the general category. This bill will ensure direct recruitment for economically weaker sections and reservation for admission in higher education institutions. 323 members of the House voted against the bill and three voted against it. All India Anna DMK party has a walkout from the House
Responding to the debate on the Bill in the Lok Sabha, Social Justice and Empowerment Minister Thavarchand Gehlot said that this is a historic moment and the Bill will provide equal opportunity to the economically weaker sections of the general category. According to the information, the provision of reservation is for such classes whether it belongs to any religious person, who is presently out of the reservation system of SC, ST, OBC. All such people will be able to take advantage of this provision.Initiating the debate, K.V. of Congress Thomas said that his party is not against the bill and supports it but many questions arise on the allegiance of the government by the way it has been brought. They demanded that it be sent to the Joint Parliamentary Committee.
Finance Minister Arun Jaitley said that this is a step taken for giving equal opportunity to all and this will ensure the development of everyone along with it. Union Minister and Lok Janshakti Party chief Ram Vilas Paswan said that this demand was being demanded for a long time which NDA government has fulfilled. Trinamool Congress's Sudip Bandopadhyay, Shiv Sena's Anandrao Adsul, All India Anna DMK Party's M Thambidurai, Biju Janata Dal's Bhatrhari Mehtab, Marxist Communist Party's Jitendra Chaudhary, Janata Dal United and its own party also supported the bill.
On passing the bill in the Lok Sabha, Prime Minister Narendra Modi said that this is a transitional moment in the history of the country. Shri Modi said in various tweets that the process of ensuring justice for all sections of society has started. Describing the government's commitment to the development of everyone, the Prime Minister expressed gratitude to all the political parties for support.
2.Prime Minister's address on the occasion of keeping the cornerstone of various development projects in Agra:-
Long live Mother India,
Long live Mother India,
Long live Mother India
Governor of Uttar Pradesh, Mr Ramanik ji, the popular and successful energy chief minister, Aditya Yogiraj, Deputy Chief Minister, Dr. Dinesh Sharma, Parliament Professor Ramshankar Chatteriya, State President of Bharatiya Janata Party and my colleague Dr. Mahendra Pandey ji, Chaudhary Babulal ji, Mr. Anil Jain All my great brothers and sisters in Agra and all my great brothers and sisters of AgraThis is my first program in Uttar Pradesh in the new year. Many of you wish all the people of the whole of Uttar Pradesh in 2019 very well. I salute all the people of the creation of the new India.It is my privilege to come among all of you in the companions, Agra and whenever I have sought support from you here, the whole of Uttar Pradesh has blessed the whole of India. I have been continuing an honest effort to live up to your dreams and your expectations and continue to be your blessing that I should continue to serve you and our nation with dedication on the path of honesty.The result of the faith and cooperation of all of you is that our mission of development with everyone is reaching a new teaching. A long time ago, the projects worth Rs.3300 crores related to the development of Agra have been inaugurated and laid out. This is an important step in this direction.These projects are mainly related to water, connected to education and health, connected to sewer, connectivity means that Agra is connected to making a smart city. For all these projects, I congratulate all the citizens , the brothers and sisters.I thank Japan for the cooperation that has been done by Japan.
Brothers and Sisters, today all of you will be pleased that a year old demand has been fulfilled today. From the whole Agra district to Mathura, there has been serious water problem. The water which is ground water is mostly saline. Because of which he has not been able to drink. The stream of Yamuna ji made the possibilities of life here. At the same time water of the same life-time became so contaminated, it was not worth drinking. This is the reason that the plan to quench the thirst of Agra from Upper Ganga Canal has been planned. Today, Agra Water Resources Fulfillment of nearly Rs.3 thousand crore is dedicated to all of you. This will bring clean water to millions of families of the entire area. I also want to inform you that cleaning of Yamuna Ji is also our priority under the Namami Ganga mission.
Work on various projects is being done to modernize the city's sewage system, as well as removing the problems of the brothers and sisters, Agra water. And brothers sisters, now you have got good luck to drink Gangas, but when you get pure water for drinking then only get water, it is not so, the difficulty of water goes away. It is not so. Her biggest impact is on health. This is especially beneficial for those living in poor life. One way to get water for drinking water of Ganges water in Agra, it is reaching everyone's home in the form of an herb of the best health of Agra. Similarly, pure drinking water can also become a major attraction for Agra coming tourists ,Can be the reason. When the traveler will come from abroad when he sees that he is getting the pure water of Ganges water, then he will be able to spend more time in Agra and therefore it should not be seen as an engineering work that from such a long distance to kilometers to kilometers Drinking water was brought to the pine line Not one type of water, it is the nectar of Agra's life, which will give Agra's life a new power.
Brothers and sisters are running a nectar mission across the country. Under the Elixir Mission, the foundation stone of the sewage network project in the western part of the city has also happened today. Under this, the sewer line will be set up to cover about 50 thousand people.
Peers, Agra is in the cities of the country where smart facilities are developing, in this order, the work of Agra's new Command and Control Center has been started today. This center, which will be built at a cost of around 300 crores, will be monitoring the entire city system. The whole city itself will be under the supervision of more than 1200 CCTV cameras. What's going on in the city's racket? Nobody is having trouble in traffic. There is no litter of garbage anywhere. The cleaning work which has come at the time or has not come. All these things will be taken care of by the CCTV cameras in a place. And CCTV cameras for brothers and sisters Agra is a feature which also brings security gurti. And to tourists abroad, This is when the tourists realize the security of the country. If the CCTV camera is detected by him, then our motorist is confident. And Agra is the center of attraction for the people of the world, and we want Agra's tourism to break all records of the last 70 years so that Agra's economy gets a new force. These water and these CCTV cameras, these sewage treatment, the initiative of these smart cities is a big deal for tourism. Not only brothers,In order to improveconnectivity , the release of rail bridge and heliport has been laid today.
Comrades, Agra will be established as a smart city, it will be clean, talk of pure drinking water, CCTV camera will also create an atmosphere of great inspiration, strength and satisfaction for the tourists coming here. The glow of historical heritage like Taj Mahal will also increase. Its direct effect is to fall on the tourism industry.
Brothers, any country or city can not be smart unless it is healthy. Keeping this in view, the Center's BJP Government is going to ensure cheap and effective areas across the country. Infrastructure   related to health is also going to be unprecedented development.
Under the Prime Minister's Health Protection Scheme , the SN Medical College of Agra is now being expanded. There will be more than two hundred new beds added and the convenience of super specialty will also increase. Apart from this, I got the chance to open Maternity wings of 100 beds and two community centers in the women's hospital.
Colleagues, a large network of hospitals in the country will be ready in the coming time. This will expand the health facilities in smaller cities and towns, young people will also get new opportunities for employment. A major reason for this is the Ayushman Bharat Scheme . Some people call it Modi care. You can predict the success of this, that every day nearly ten thousand poor people are getting treatment under this scheme. And these are people who were battling diseases for 4-4, 5-5 years. Were facing severe troubles. In the absence of money, he waited for death and suffered pain.
Brothers and sisters, Where to go poorly, finally, the Ayushman Bharat Scheme has helped this suffering people so fast. And a person is sick in the house, happens in a serious illness, so only one person, the whole family gets sick. Children's education goes to eat, all the work in the house becomes useless. The task of saving all of them is done by the people of Ayushman Bharat, the person whom they call Modi Care, and within just a hundred days, there is not much time left inside. Within 100 days, seven lakh poor brothers, sisters or children have already been treated . Their treatment   isalready   underway in the hospital .
The brothers and sisters, the BJP government is committed to the development of Panchdhara ie development of children, earning the youth, medicines to the elderly , irrigation to the farmers and people's hearing.
If you talk about earnings, almost every district of UP, including Agra, is known for its medium and small industries. Agra's Petha, here is the identity of this, many more traditional works also happen in our Agra. The Center and the UP Government are engaged in giving more power to these small industries. A Janpad, a product of the UP government, this scheme is going to be a milestone in promoting small and traditional industries here. Along with this , our campaign of Make in India is also getting its strength.
Our government is constantly taking steps to empower allies, small, medium and small scale industries. A modern system of online loans has been made for the small entrepreneurs to avoid getting loans from banks. And you will be surprised to know. The people of Uttar Pradesh are taking advantage of it, the people of Agra are taking advantage. In just those 59 minutes, not only in one hour , in just 59 minutes, the technology system has been set up to sanction the loan of up to Rs 1 crore.
Apart from this, this is also being tried by the government. That small entrepreneurs are not trapped in large industries or companies, making cash flow. Which exported goods, they take a loan went given them 2 percent interest and discounts. Similarly, the rules ranging from environmental clearance to inspection have been very simple. These efforts in the coming years to small and medium sized enterprises and will give an impetus to find new opportunities to Agra and employs around youth.
Trade and business flourish when rule laws are easy. The businessman also understood and understood the customer too. This is GST that arranges to strengthen the relationship between the businessman and the client and their mutual trust and trust. Right now this new arrangement has only happened for one and a half years. And continuous public hearing, listening to people's complaints and listening to them has been changing and improving. And in the direction of a general system, such a large country, such a great work is also making people wonder in the world.Brothers and sisters, some people are spreading illusions and therefore one thing we understand is that there was a new GST named after all the tax that was written earlier. This is a lie, this is the illusion, GST has no new tax. Those who used to have done 25 percent, 30 percent, 18 percent, 20 percent, 22 percent and those who used to hide before, did not know, and we used to give them all that had been eliminated and those who were 40 percent, 25 The percentage was 30 percent, 35 percent was, 28 percent , while reducing them, 99 percent of the items have been brought down from 18 percent. Someone is in 18, someone is in 12, someone is in zero and the benefit of which the customer is aware is taking full advantage of it. And so the brother-sisters GST is continuing the process of simplifying the GST for traders and consumers.This government-run government is implementing the suggestions you get from all of you. And so, we have now urged the GST Council that the income limit of entrepreneurs coming within the scope of GST ,  I have made a lot of requests , the decision is not in my hand, the decision is in the hands of GST Council. The GST Council has all the political parties, all the state governments. And they all have to decide together. But I have urged them. To increase the income limit of enterprises in the realm of GST from Rs 20 lakh to Rs 75 lakh
Apart from this, the houses are built for the middle class, they should be brought in just under 5 percent and only. I have asked both of these things to the GST Council. Last time also, but the last time some states opposed, did not get the consent. I hope that in the days to come, when GST will get the council, he will take care of this matter of Janardanand also.
Peers, all developed with all this is not just a slogan, but it is the spirit of good governance. Our government is doing this effort not to deprive any section of the country, any person, and any field opportunities.
Brothers and Sisters yesterday the whole country has seen how a historic bill has been passed in the Lok Sabha.
After so many decades of independence, an attempt has been made to find solutions to the great inequality due to poverty. A major big step has been taken on this side to get reservation in the general category general category poor families, educational institutions and government services.
And this is fun because I know that slogans too have increased before, there are lots of slogans even during elections. And then I used to say openly to everyone. Do not care if there is a gain in the election or not. I used to tell that if anyone makes a promise outside 50 percent, then all the dishonesty used to say I used to say. Because if 50 percent is to go above it, then the Constitution can not go without amendment , if someone had made promises to him other than him, then any Dalit wanted to steal from what he has got. Some Adivasis wanted to steal from whatever they got, someone wanted to steal from the OBC they got. And he wanted to get rid of it. So that their vote bank is full. And so we had said that the first constitutional amendment would be necessary for this.
And today I am happy that what I once used to talk about as the Chief Minister, today, as the Prime Minister, I followed that thing. Advancing the constitution, and without stealing anything from the Dalits, without abducting the rights of the tribals, without amending any of the OBC's rights, by amending the additional constitution, I am also in the upper classes of the people of my country. , Have done the job of worrying about the poor children.
Some people say that why Modi did come during this election, tell me such a six months go to our country, when there is no election, if you bring it three months ago, then you say that the elections in Madhya Pradesh, Chhattisgarh, Rajasthan area If you bring it, then you say that you have brought Karnataka for the election. That is, the elections in India are going on every couple of times in a year, elections going somewhere and therefore I keep telling that the elections of the Lok Sabha and the assembly will be together in the country. Elections only once in five years, It should not be that should not be. These expenses must be closed or not. It has to stop being engaged in this day and night or not. Whether the government must complete the work year or not. He was engaged in repeated elections. The people of the police will see the law system that will take the election bins. It keeps going. But these leaders are not concerned about the country. They are, Who were not ready to see each other's face.
Watching the watchmen from such a distance, they get so nervous, they get scared, they think that whatever we will be-will be able to see the accounts later, first remove this watchman. If the watchman went, all will be able to survive the life of the robbery but if the watchman is there, it will be difficult to live till then. You tell me that the janitor should do his job or should not do this, should the janitor be afraid of anyone ? What is your blessing on this janitor ?  This janitor should do his or her work honestly or not. The looted wealth of the country should come back or should not come. The poor should get the right or should not get it. Every watchman I am engaged to make every country stand as a watchman.
Parliament has done a great deal of work for the reservation of poor people of the upper caste community. I express my gratitude to every citizen of the country, who have come forward to strengthen the spirit of equality and harmony of all the stakeholders of Parliament.
Companions, through this step, millions of young peers from the country will get an opportunity which would have left behind due to poverty due to their lack. Historic initiatives have been taken to prevent poverty from obstructing someone's living standards in anybody's development.
The brothers and sisters are not the only reservation system in the appointments, but we have done an important job in the institutions of higher education, technical and vocational education in the country. As we made reservations for the poor people of this upper caste society, they have also decided that the higher education seats will be increased by 10 percent. We do not want to do any work that can be taken away from someone.
Companions, we are moving forward with this kind of arrangement. On the basis of economic condition which has become one of the food in our society. There is a demand for it over the years. The work of fulfilling this demand has been done by the Bharatiya Janata Party government. But I would also say that we now have to be cautious with those forces too. Who has been busy in heating the rumors market for his own interests. The enemies of the poor, such people from the social media and on the big stage now have begun to spread lies, spread illusions. All the tricks and every conspiracy of our society, which is proven to be selfish, is to defeat us completely.
Companions, the government has taken another important step. Amendment to the constitution related to citizenship, this is part of the resolution of the country, according to which we will be standing with all those people. Which were once part of India-land. India needs to stand with him at the time of partition and then after the circumstances which are separated from us, if they are exploited on the basis of faith. I believe that the opposition parties are opposing this move. They will also understand this feeling.
I have been trying to conform to the full capacity of the colleagues, even against the corruption you have given me four and a half years ago. Because of this why some people have started to gather against this janitor. Side also is clear to see that in Uttar Pradesh, you also see that sand , Moran over exploited , consumed between the rights of the underprivileged. Such people have started a campaign of partnership in corruption. They are joining hands to hide each other's scams and scandals. Who were never ready to see eye contact with each other.
He also forgot the shame of the guest house of the Lucknow House for political interests. Trying to forget what happened in many parts of Western UP including Muzaffarnagar. All this is happening just and just because the watchman awakens. The watchman is standing in front. Standing with full sincerity. Each piece is adding to each strain for the only campaign to remove the janitor. When investigating agencies are seeking account of their actions, they are plotting against the watchman.
Brothers and Sisters, you must have seen in the Parliament 2-3 days ago. We are proud to have a daughter of our country who has become the Defense Minister of the country for the first time. And for the first time a woman is handling the security of 120 million nationals. This woman is a matter of pride. Woman is the subject of pride. And when our Defense Minister a lady rescues sixes from the Opposition leaders in the Parliament. Exposed all their lies, you saw their eyes torn off. And our Defense Minister was holding one truth after the other on the Parliament House. Such people were frustrated , so frustrated that they were bent on insulting a woman. A lady is bent on insulting the defense minister. This is not a defense minister, it is an insult to the women's power of the entire country, and whose price will be paid to these irresponsible leaders.
Brothers and Sisters, as much as they try, but the investigating agencies will do their job, they will call for these accounts. If the colleagues, the janitor, have succeeded in bringing all of them to this position, then how did this happen , it has not happened because of Modi. This is due to your blessing. 130 crore is due to the faith of the Indians. I am constantly trying to uphold this belief.
Brothers and sisters, now the story of Michel Mama is not remembered nor you, the helicopter has now come into the possession of the royal Hindustan and hence their sweat is left untouched. What will happen if this politician speaks something? And so, when he took the politician from the jail, the Congress sent one of his advocates to protect him immediately.
Brothers and Sisters, what does this show if the Congress lawyer gets help in the help of the Rajdhar, then he gets to save him, the dal is black, will it take time to see what ? Do not understand ! Do not know what the game behind the scenes will be !
Brothers and sisters, now their troubles are increasing with the watchman, they would have thought that Modi would say anything but this too, like all the politicians, will be like this just like this. But when it was four years, but if Modi is standing like this, they feel that this watchman , this watchman will not let it escape. And so are upset. Once again I congratulate you all for these development projects. And you come to bless such a large number, I express my gratitude for this too. Speak with me ….
Long live Mother India…
Long live Mother India…
Long live Mother India…
All of you very much best wishes in Makar Sankranti's Endurance.
3.Women and Child Development Ministry launched "Web Wonder Woman" Campaign:-
The Ministry of Women and Child Development has launched 'Online:' www.Web-WonderWomen ' online campaign . The purpose of this campaign is to search for women and recognize their extraordinary achievements, which are running a meaningful agenda of social change through social media. On this occasion, Union Minister of Women and Child Development, Smt Menaka Sanjay Gandhi and Global Head of Tweeter, Public Policy Mr. Colin Crowell and President and CEO of Breakthrough Ms. Sohini Bhattacharya were present on the occasion.
Through this campaign, the mission of the Ministry and Campaign is to recognize the firmness of the Indian Women's Veterans of the world who have initiated meaningful campaigns through social media for change in society.This campaign will recognize the efforts of these brilliant women.
On this occasion, Union Minister of Women and Child Development, Smt. Menaka, Sanjay Gandhi said that Indian women have always been entrepreneurs and they have made a meaningful impact on society through their hard work, experience and knowledge. The aim of the online '#: Web: WonderWomen' campaign is to honor and encourage vowels that have had meaningful impact on social media forums. He said that his ministry is pleased with the partnership with Breakthrough and Tweeter India.According to the prescribed standard in this campaign, entries are invited through enrollment from all over the world. The nominations will be held till 31st January, 2019. Women of Indian origin working or living in anywhere in the world are eligible for nomination. The selected entries will be opened for public voting on the tweeter and the finalists will be selected by the judges panel.
4.Female collector registers daughter to promote Anganwadi centers:-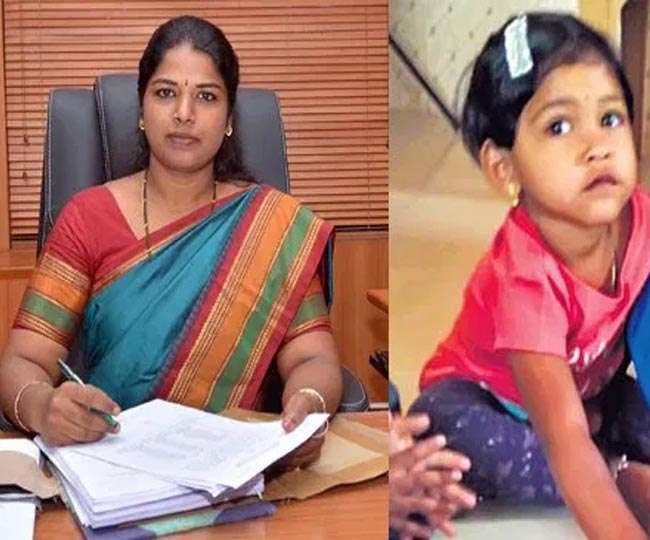 While most people of the upper class of society prefer to teach their children at the play school and costly boarding schools in the well-being, the women IAS officer of Tamil Nadu has presented an example. The collector of Tirunelveli district has enrolled his daughter in Anganwadi center.
A large number of Anganwadis are the DM of Tirunelveli district
2009 batch IAS officer Shilpa Prabhakar Satish is a great supporter of this district's first woman collector and anganwadis. They say that Anganwadi is the Integrated Child Development Center, which takes care of children's health.
When asked if he allowed his daughter to enter the Anganwadi center run by the state government near the house, he said, "We (government) only promote Anganwadi centers. There are all the amenities here. This center is very close to my house and my daughter meets people while she is there and plays there. '
He said that he wants his child to spend time with the children of all sections of society and learn early Tamil language.
Collector Shilpa said, there are a few thousand Anganwadis in Tirunelveli and all of them are good teachers, who are capable of taking care of children and we have good infrastructure and play content.
INTERNATIONAL NEWS
5.According to the World Economic Forum, the consumer market of India will be the third largest market after the US and China by the year 2030:-
According to the latest report of the World Economic Forum, India's consumer market will be the third place after the US and China by the year 2030. According to the report, India's consumer market will increase from the current 15 trillion US dollars to 60 trillion US dollars.
6.Inaugurating the first 'Swadesh Darshan' project in Meghalaya, the arrival of domestic tourists during the year 2017 in the North-East increased by 22.8 per cent:-
Chief Minister of Meghalaya, Mr. Conrad's Sangma  inaugurated the project "Umayam (Lake View) – U Lum Sohpetbineng-Maudiangdiang – Orchid Lake Resort", developed under " Swadesh Darshan " scheme of the Ministry of Tourism, Government of India,  "North Eastern Circuit". On this occasion, Meghalaya Tourism Minister Umiam Mr. Metbah CEC ,  Tourism Secretary Yogendra Tripathi and chairman of the Meghalaya Tourism Development Corporation Limited ,  Mr. Sambor Shullai was also present. The Ministry of Tourism approved the project of "North-Eastern Circuit: Umiam (Lake View) – U Lum Sohpetbineng-Maudigangiang-Orchid Lake Resort" project worth Rs 99.13 crore in July, 2016. Under this project, the Ministry has organized traditional Healing Center ,  tribal rejuvenation center ,  tourist information center ,  multipurpose hall ,  log huts ,  cafeteria ,  sound and light show ,  souvenir shops ,  water sports zone ,  zip line ,  canopy walk ,  trekking route ,  cycling track ,  Last mile engagement , Facilities like caravan parking ,  public toilets ,  and solid waste management have been developed. Development of North Eastern Region is the main focus area of ​​the Ministry of Tourism. Ministry has taken several initiatives to develop domestic and international tourism in this area. The main challenges in the development of tourism in this area include lack of quality infrastructure and awareness of tourism products in this area.
The Ministry is running a number of activities to deal with the above issues. On one hand the Ministry has given  ' Swadesh Darshan '  and  ' Prasad ' Under the major schemes like tourism infrastructure in this area has given great importance. On the other hand, the Ministry has approved 16 projects worth Rs 1349.04 crore involving all the North Eastern States under their own schemes. The Ministry of Tourism is actively working for the development of tourism in this area along with the other Ministries like Culture, Northeast Development, Road Transport and Highways and Civil Aviation Ministries. The Ministry is running special incentive programs in the domestic and international markets, with special emphasis on diversities, tourism products and rich culture of this region. The Ministry has also set up Hotel Management and Food Croft Institute to provide skilled staff in the tourism and hospitality sector in the North-Eastern region.
The efforts of the Ministry have started showing positive results and during the last few years the arrival of foreign tourists in this area has also increased. A total of 1.69 lakh foreign tourists arrived during the year 2017, showing a 16.7 percent increase compared to 1.5 lakh tourists in 2016. The arrival of domestic tourists in the year 2017 was 95.7 lakh, while in 2016, 77.7 lakh domestic tourists visited. Thus, there was a double-digit impressive increase of 22.8 percent compared to 2016. The increasing number of tourists has created better employment opportunities for local people in this area.
Swadesh Darshan Scheme is one of the important schemes of the Ministry of Tourism. This scheme has been started for the development of related circuits in a well-planned and priority manner. Under this scheme, the government is focusing on developing quality infrastructure in the country with the aim of providing better experience and facilities to tourists and on the other side to promote economic progress. This scheme was started in the year 2014-15 and till date, the Ministry has sanctioned 74 projects worth Rs 5,932.05 crore in 30 States and Union Territories. Out of these projects, 30 projects / major components are expected to be completed by this year.
SPORTS NEWS
7.Indian team retains dominance over ICC ODI ranking:-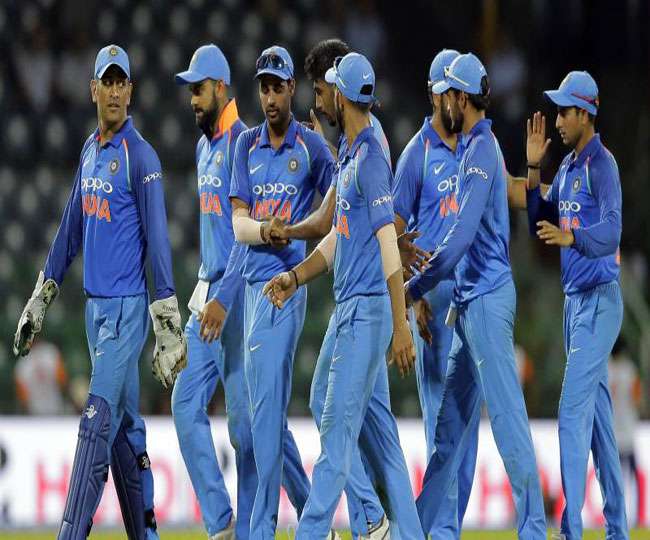 Patra Indian players are dominating in the ICC ODI rankings. In batting, Virat Kohli remains on number one, so Jaspreet Bumrah is on top of the bowling rankings. In the team ranking, India is second behind England with 121 points, but Team India has a great opportunity to reach England very close. India currently have to play three ODIs against Australia, and immediately after the one-day series against New Zealand will be played in the five-match series. That is, if the Indian team did not lose a single match in these eight matches, then they would be very close to England with 125 points. If Pakistan beat South Africa by 5-0 in the one-day series then they will leave the Proteas behind. England currently have 126 rating points in the first place. Talking about the batting rankings, Virat Kohli is at number one, while Rohit Sharma is the second-ranked batsman. In the bowling rankings, Jaspreet Bumrah is at number one; Afghanistan's spinner Rashid Khan is in second place while Indian Chiman bowler Kuldeep Yadav is in third position. Indian batsman Shikhar Dhawan is in ninth place in the batting rankings while spinner Yuswendra Chahal is jointly sixth with England spinner Adil Rashid. In the batting rankings, New Zealand captain Ken Williamson is out of the top ten. Now he has reached number 11. Other New Zealand batsmen Ross Taylor and Martin Guptill are on the third and the 14th position in the rankings. In the ODI team rankings, the New Zealand team is at number three and it has 113 points, while Sri Lanka's team has lost one point to finish eighth with 78 points.
BUSINESS NEWS
8.Sensex rises 231 points; Nifty closes 10850 mark; Axis Bank hikes top gainers:-
In the business of the day, the Indian stock market has climbed firmly. On the day-to-day trade, the Sensex resumed 231.98 points up at 36,212 and the Nifty advanced 53 points to 10,855. On the other hand, 24 of the 50 Nifty 50 shares and 26 red marks were closed on the business. On the other hand, if the Nifty index is concerned, the Nifty mid-cap has closed down by 0.01 per cent and the smallcap 0.22 per cent fall.
Recent sectorial index: Speaking of sectorial index to the day's trading on the Nifty gained Auto 0.54 per cent annually, Nifty Finance Service 0.90 per cent annually, Nifty FMCG 1.01 per over, Nifty gained IT 0.28 per cent, Nifty metal 1.16 per cent The fall of Nifty Pharma, up 0.47 per cent and the Nifty Realty 0.65 per cent, have closed down.
Top Gainer-Top Losers: Axis Bank rose by 3.12 per cent, ITC by 2.55 per cent, Tata Motors by 2 per cent, UP by 1.70 per cent and HDFC Bank 1.65 per cent. . On the other hand, Hind Petro dropped 3.95 percent, with the fall of Gale 3.84 percent, BPCL dropped by 3.40 percent, Yes Bank fell 3.02 percent and Ultrasam was down by 2.71 percent with top losers. 
On the 9th and 17th day of the day, the Sensex rose 228 points to 36,209 and the Nifty was trading 63 points higher at 10,866. On the other hand, 50 shares of 50 shares of Nifty 50 were on the green mark, 8 shares on the red mark and 1 were trading without change. If the index was to be talked about, the mid-cap was trading 0.39 percent and the smallcap 0.42 percent.
It is noteworthy that the Sensex rose 130 points to close at 35,980 and the Nifty was up 30 points to close at 10,802 on Tuesday.The situation of the sectoral index : If you talk about the sectoral index, then you are trading in green mark. Nifty Auto gained 0.55 percent, Nifty financed by 0.63 percent, Nifty FMCG gained 0.43 percent, Nifty IT up 0.69 percent, Nifty metal gained 0.47 percent, Nifty Pharma climbed 0.65 percent, and Nifty pharma at 9.25. Nifty is trading with a gain of 0.54 percent.
Asian markets: Asian markets have started strong in Wednesday's business. Japan's Nikkei rose by 1.25 percent at 20455, China's Shanghai rose by 1.59 percent to 2566, Hangseng rose by 2.27 percent to 26463 and Taiwan's Cospei with 1.74 percent. Is trading on 2060. In the US market, the Dow Jones gained 1.09 percent to end at 23,787, with Standard and Poor's rising 0.97 percent to 2574 and Nasdaq by 1.08 percent to 6897 on the last day.