1.President to honor 43 most respected personalities by Padma awards :-
President Ramnath Kovind will confer today the renowned composer Ilaiyaraja, Hindutva thinker Dev Anand and 41 other dignitaries with the prestigious Padma Awards of 2018. Home Minister Rajnath Singh on Monday gave a ban on 43 Padma awards to 43 celebrities. An official said that these awards will be given in the program organized at Rashtrapati Bhavan. In this program, Vice President M. Venkaiah Naidu, Prime Minister Narendra Modi, Union Minister and many other dignitaries will be attending. The government has selected many celebrities who have made this year's service to the poor, those who run school providing free education and popular tribal artists at the global level, for the Padma awards.
2.Vladimir Putin wins for the fourth time in Russia's presidential election, six years and will remain in power :-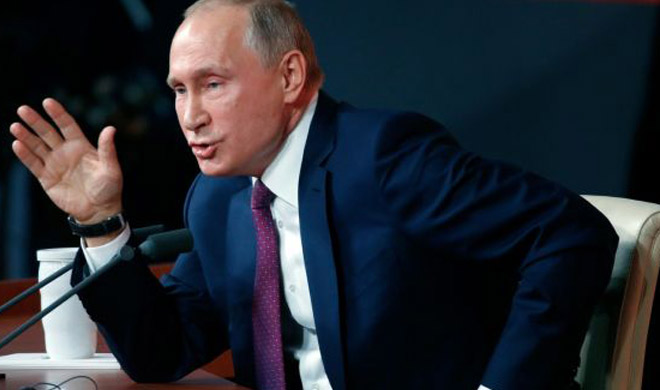 Russia's President Vladimir Putin is heading for a huge victory in the presidential election. This will give them an opportunity to stay in power for six years. According to the initial results, Putin has received more than 75 percent of the vote. He is far ahead of Powell Grodinen of his nearest rival Communist Party.
3.India sent 13th diplomatic letter to Pakistan in protest against intimidation of its High Commission officials in Islamabad :-
In Pakistan, Indian High Commissioner in Islamabad sent another diplomatic letter to Pakistan's Foreign Ministry protesting against the intimidation and harassment of the officials of the Indian High Commission.
Official sources said this is the 13th letter sent to the Pakistani Foreign Ministry this year on this issue. The embassy said that some unknown people of Islamiabad, following an intention of attack and intimidation by an Indian High Commission official yesterday. The High Commission's website is also being blocked and blocked and due to inconvenience this is affecting the normal functioning.
4.Notable poet Kedarnath Singh, the precious diamond of Indian literature :-
Kedarnath Singh, a well-known poet of Hindi, died on Monday in the All India Institute of Medical Sciences (AIIMS). He was ill for a long time. In 2013, he was awarded the prestigious Jnanpith award. He was admitted to the hospital after suffering pneumonia in Kolkata about a month and a half ago. Due to lack of improvement in health, he was admitted to AIIMS in Delhi. He returned home after health improved. After the disaster, he was admitted to Moolchand Hospital in Delhi and then later in AIIMS, where he breathed his last at around 9.00 pm on Monday night. The funeral will be held on Tuesday in the funeral home situated on Lodi road.
5.Chief of Staff of Staff Committee and Chief of Naval Staff, Admiral Sunil Lanba is going to visit America :-
Chief of Staff of Staff Committee and Chief of Naval Staff, Admiral Sunil Lamba will travel to the United States from 19 to 23 March 2018 on a bilateral visit. The aim of their visit is to strengthen cooperation between the armed forces of India and the US and explore new opportunities for defense cooperation. 
Mr. James Matisse , Chief of the Chief of the Staff of Staff of Staff Committee and Chief of Naval Staff, Mr. Richard V Spencer , Secretary of the Navy, General Joseph F. Dunford Jr. , Chief of Naval Operations, Admiral John , Chief of Staff Chief of staff M. Richardson , commander of the Pacific command Admiral Harry Harris , Pacific Fleet commander make Admiral Scott Swift and Naval Sea Systems Field Commander will hold bilateral talks with Vice Admiral Thomas J. Moore. 
6.broken stock in the stock market, broken US market, Asian markets dominate :-
new Delhi. All the Asian markets are trading in the fall in Tuesday's session. Due to the downfall, due to the fall in Facebook (Facebook) shares, the impaired American market was in the mood. The US market also closed on Monday with a huge fall. The Singapore Nifty also closed around 23 points at 10092 levels. The beginning of the Indian stock market, among these weak international signs, is likely to be in the red mark. The 10000 level for the Nifty will be very important. At around 8:30 in the morning, many Asian markets are trading with the downturn. Japan's index is down at Nikkei 1 percent, at 21267 level. At the same time, Shanghai was down 13 points at the level of 3265 and Hangsang was trading 176 points at 31337 levels. In addition, Taiwan's Index Cospei is trading at a level of 2464 with a decline of 10 points.
7.International Monetary Fund chief Christine Patarde warned the US against trade sanctions :-
Head of the International Monetary Fund, Christine Detect, cautioned the US against trade sanctions saying that there is no victory in business conflict. He said this in a meeting with Argentina's newspaper about the recent decision of US President Donald Trump to charge imported steel and aluminum.
8.Inaugurating the first India-Japan Workshop on the subject of Disaster Risk Reduction (DRR) :-
Dr. Rajiv Kumar, Deputy Chairman, Policy Commission today inaugurated the first India-Japan Workshop on Disaster Risk Reduction (DRR) topic. The two-day workshop is jointly organized by the Home Ministry, National Disaster Management Authority (NDMA) and the Japanese Government.
Speaking about this occasion, the Deputy Chairman of the Policy Commission, while pointing out the similarities between two ancient Asian civilizations of India and Japan, said that both countries have faced considerable natural disasters and reduced the risk of both disasters, and active for development We are disinvestantly by the form. He said that this workshop is the beginning of the formal work of initiatives initiated in accordance with the Memorandum of Understanding between the two countries on Disaster Risk Reduction in September 2017.